Critical Role is a popular live-streamed D&D adventure, where dungeon master extraordinaire Matt Mercer leads a group of LA-based voice actors through epic adventures in a completely homebrewed campaign setting. It is now in its second campaign, with their first one encompassing an impressive 115 episodes and their second one also 90-some episodes strong. Thanks not only to Matt Mercer's skills as a veteran D&D dungeon master, but also to the outstanding storytelling and acting performances by everyone involved, the show has gained a large global following of fans over the last five years, whom you can often hear being referred to as critters. If you're not familiar with the show, you can read up on it on Wikipedia or watch it on YouTube (or alternatively on Twitch).
Just like every D&D game, it's no surprise that Critical Role heavily relies on dice rolls as an integral part of the game mechanics, and while most of the cast seem to have more of a utilitarian view on dice, they do have their own resident dice hoarder among them — the wonderful Laura Bailey, who owns a dice bag the size of a giant pumpkin and puts her misbehaving dice in dice jails. And since Laura Bailey is also in charge of the range of merchandise for the show, it wasn't long before we saw custom-made dice sets hit the Critical Role merch store.
---
Critical Role Set
Critical Role's very first dice set was released in 2017 when the show was still deep in the throes of their Tal'dorei campaign: a simple opaque black set of polymer dice with red ink and the Critical Role logo on the 20-face of the d20. Sold in the Geek & Sundry store, it came with a black velvet bag with the Critical Role logo on it. While the set was restocked a few times back in 2017, it is now no longer available. Interestingly, Chinese dice manufacturer Bescon listed these dice on their website, so it is likely that they were custom-made by Bescon for Geek & Sundry.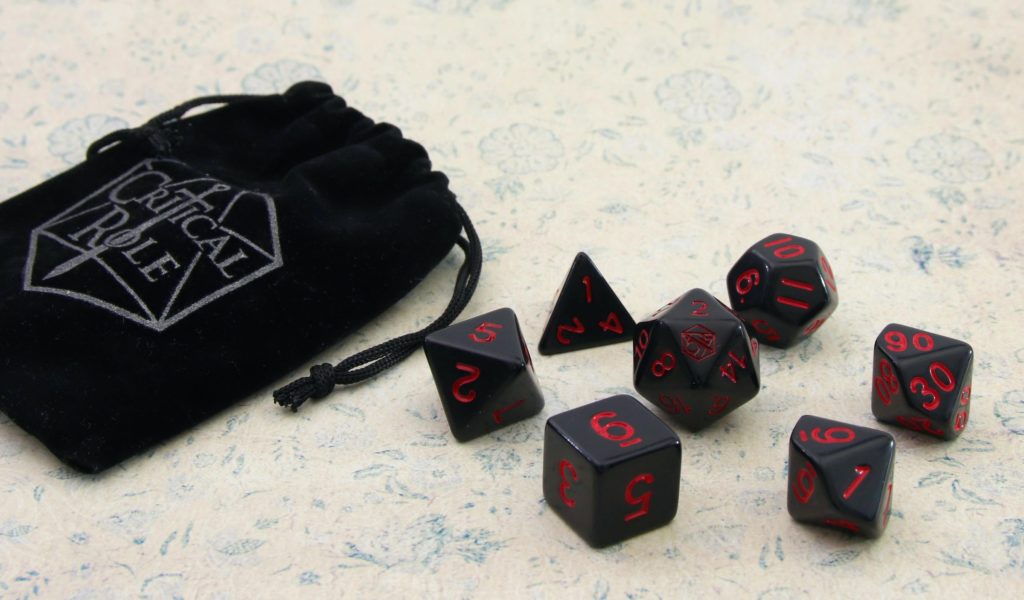 ---
GenCon 2017
2017 was also the year Critical Role started their tradition of releasing limited sets of dice for their GenCon live shows, which were only sold at the convention (with limited overstock sometimes sold online later). The 2017 GenCon set was a reverse colour theme from their first set: opaque red polymer dice with black ink, and the CR logo as the 20-face. Coined "The Critter Collection", it came with a black velvet bag with the Critical Role logo on it. This set is now out of print and will most likely not be remade.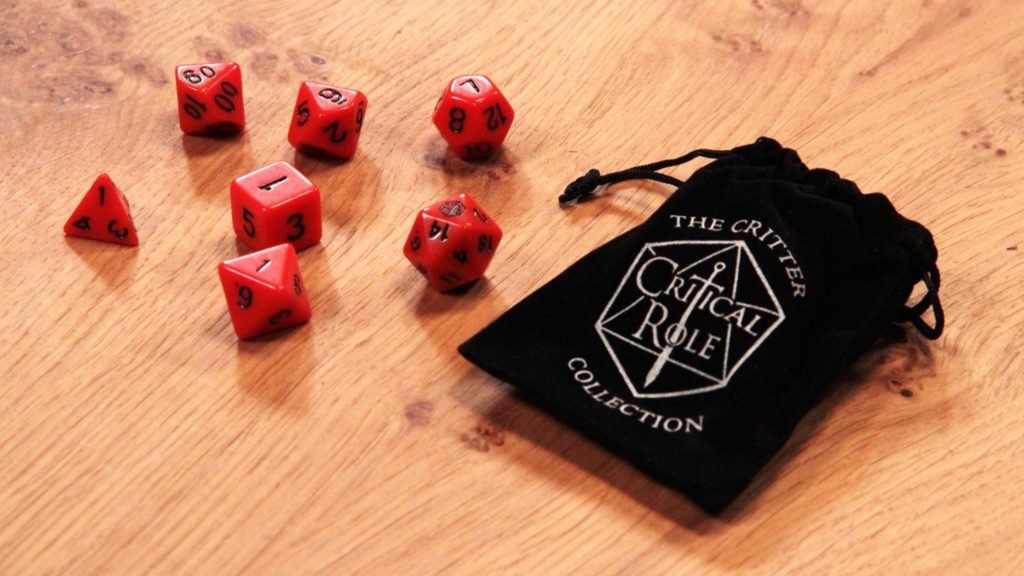 ---
Vox Machina d20s
Later in 2017, Critical Role mixed it up a little, honouring their campaign 1 adventuring group Vox Machina with unique, character-themed d20s. Every character had their own die with their symbol on the 20 face that was either tied to their class or something significant from the character's backstory. Interesting piece of trivia: Sam Riegel had specifically requested to make his die difficult to read, and indeed, the ink on the Scanlan die is almost the same colour as the glitter inside, which does make it hard to make out the numbers!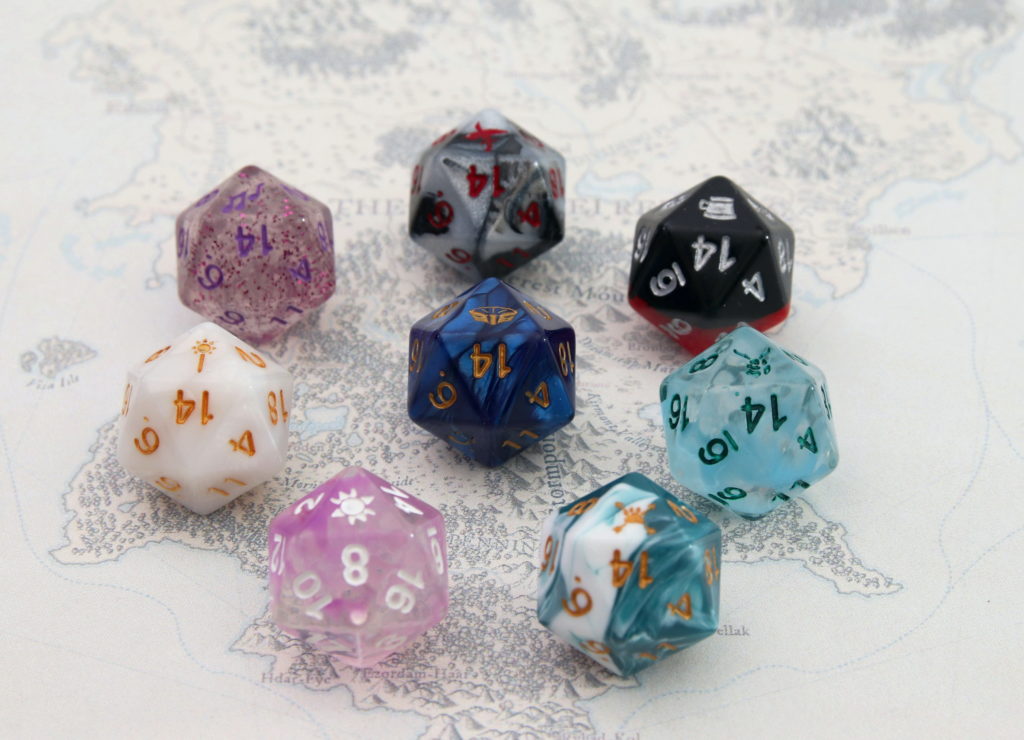 The d20s set was available in the Geek & Sundry store for a limited time, and became out of print for several years. However, many new fans who discovered the show in the past two years were after these dice, and secondary market prices soared, eventually surpassing the $250 mark. In autumn 2019, critters finally had every reason to rejoice, because Critical Role re-released the VM d20 sets with some minor modifications to colouring and mix.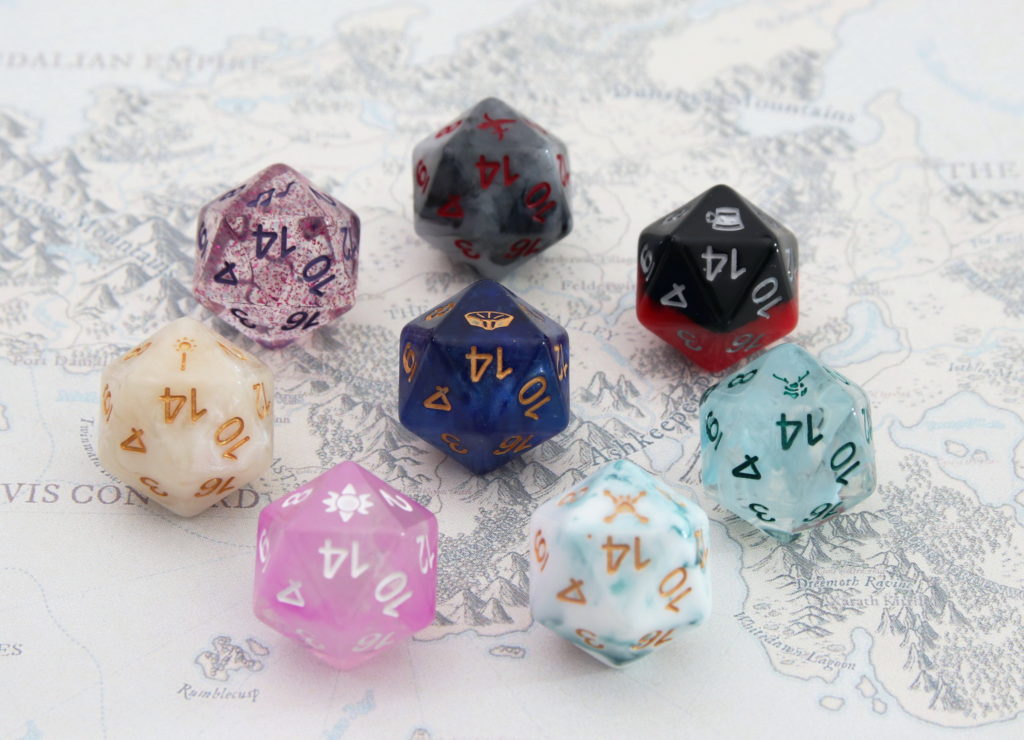 The version 2 set is very similar, but if you look closely, you will see that the Scanlan die now has darker ink, the Vex die doesn't have as much teal, and the Vax die mix is somewhat muddier. The Percy die is a bit cloudier, and the Pike and Matt dice are slightly darker, but overall the differences are not very pronounced.
The second run of the Vox Machina d20s is being restocked intermittently in both the US and UK Critical Role merch shops after quickly selling out upon their initial release.

---
GenCon 2018
Campaign 2 of Critical Role made its debut in early 2018, and GenCon 2018 brought another highlight to the fans — another live show. Just like the previous year, they released a GenCon-exclusive set of dice, this time a metal set in a copper colour with black ink and the d20 Critical Role logo. Con visitors were able to purchase this set at the con, and remaining stock was made available in the online store later. It came with a dark blue velvet bag that didn't have a logo on it but had a metal Critical Role pendant fastened to the drawstring. This set is also out of print now and is not likely to be remade.
---
Wildemount Set
It wasn't long after GenCon that Critical Role continued their dice journey with a set to honor campaign 2, naming it Wildemount after the continent that the 2nd campaign was set on. It may have been the GenCon 2018 set that inspired them to include copper as one of the recurring colours associated with Wildemount, adding dark blue rather than black to the colour theme. The Wildemount set is comprised of dark blue polymer dice with copper ink, the d20 logo and the familiar dark blue velvet bag with pendant. The set was available regularly in the Critical Role store for a while, and was restocked several times. Interestingly, there appear to be different versions with different moulds out there, presumably from different runs, potentially even from different manufacturers.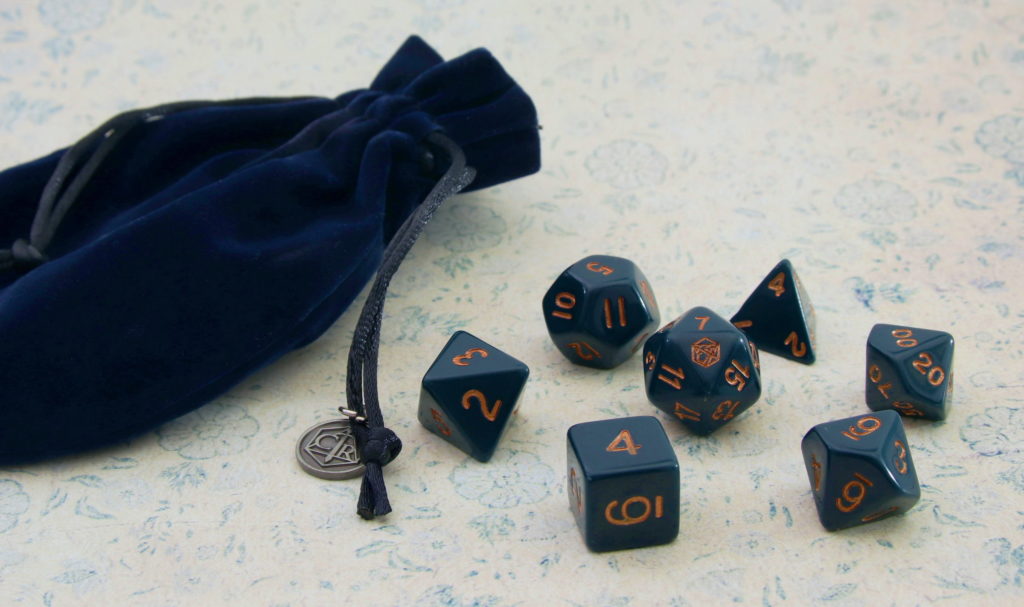 ---
Animated Vox Machina Kickstarter
When Critical Role announced their Kickstarter for an animated series of the Legends of Vox Machina in March 2019, the internet went crazy. The Kickstarter raised over $2 million on the first day alone, and wrapped up in April with a total of over $11 million dollars raised. The $100 backing tier included, among other things, a set of purple Legend of Vox Machina polymer dice with two d20s that will have the Critical Role logo on one of the d20s and the Vox Machina logo on the second one. While the dice have not been delivered to backers yet, samples of the dice set have been shared in the Kickstarter updates. Delivery date is currently unknown.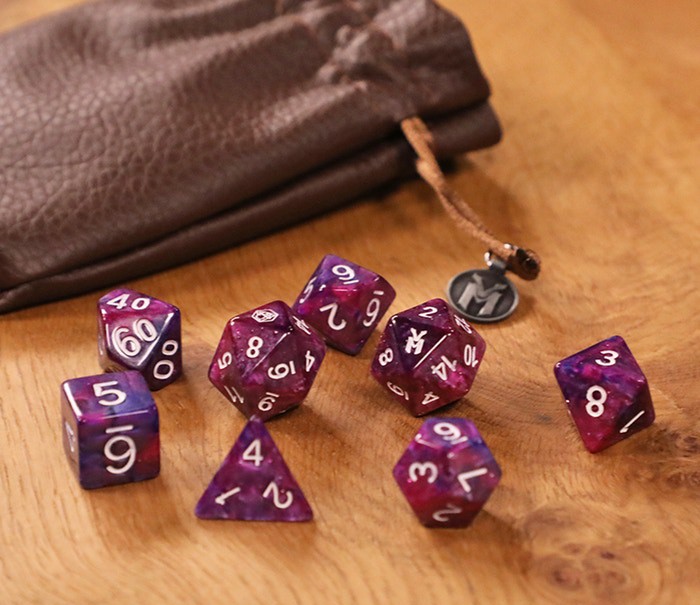 ---
GenCon 2019
Going with their tradition to release a new exclusive set for GenCon, last year's set stayed in line with the copper and blue Wildemount theme. The copper-coloured metal dice with dark blue enamel faces and the already established d20 logo came with a faux leather bag and pendant. As with all the GenCon dice, they were exclusively available for con attendees, although remaining stock was later offered in the Critical Role shop (in Feb 2020). New for GenCon 2019 was an oversized polymer d20 (36mm) in dark blue with copper ink that Laura Bailey got very excited over and promptly used during the episode where she first presented the chonky d20 to critters.
---
Whitestone Set
It wouldn't be Critical Role if they weren't constantly upping their game, so in late 2019 we left the continent of Wildemount and returned to the home of campaign 1, with Critical Role's first semi-precious stone dice set made from opalite. The set brings back memories of Vox Machina and their home base of Whitestone, the city-state in the northeast of Tal'dorei. The opalite dice with engraved gold-inked numbers and the logo on the d20 are said to imitate the glass-like substance residuum that is created out of refined whitestone, which gave the city its name.
Complimenting the signature semi-translucent shimmer of opalite, the set comes in a cream-coloured velvet box that has a golden Whitestone crest on the lid and the Critical Role logo at the bottom, with the dice held securely in a light purple inlay. The opalite set was being sold in both the US and UK Critical Role shop at a price point of $74.99 and £74.99 respectively, and may be restocked intermittently if sold out.
---
Vox Machina Dice Sets
The Critical Role dice journey continued in 2020, when Critical Role partnered with well known and much loved dice brand Die Hard Dice (DHD). Using the so-called Avalore dice mould that is exclusive to DHD, a full polymer polyset was produced for each of the Vox Machina characters.
The designs of the full polysets are, for the most part, similar to the original Vox Machina d20s. The only sets that are strikingly different are the Grog, Keyleth and Percy sets. While the original Grog d20 was half opaque black, half opaque red, the new polyset is matte white with a dirty brown finish that gives them a vintage or used look (reminiscent of the HD Dice Ancient design). The Keyleth polyset is a mix of semi-translucent green and glittery brown material. The new Percy set clear translucent material with dark purple glittery swirls inside. The other sets are fairly similar to the old versions, most with fine glitter rather than a pearl effect.
Each of the d20s has a logo in place of the 20 that signifies the character's class or something related to their personality (same exact logos as the original VM d20s). All sets come with a faux leather bag with embossed Critical Role logo in a colour that matches the dice or the character.
---
Creative Critters
It is not only from Critical Role themselves that you can get Critical Role themed dice. The community of critters is very creative, which doesn't just extend to fanart and fan fiction. Crafty critters have designed or handmade dice connected to the show, some of which are available on Etsy or other platforms. The list below is not exhaustive, but here are a few examples.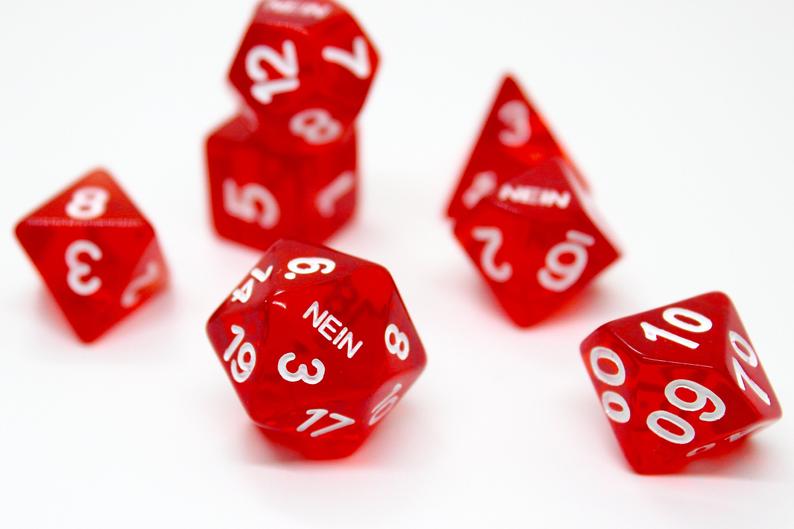 ---
Mighty Nein dice and beyond
Before you get excited, no, this is not a confirmation that we will get Mighty Nein dice. But it seems only logical that this should be one of the next releases, right? Many critters have already asked for them, and I hope that Critical Role will deliver. I can't wait to see what they would look like!
In the meantime, Legends of Vox Machina Kickstarter backers can look forward to their exclusive dice set being delivered, and perhaps some of the older sets coming back to the Critical Role store. Keep your eyes out for announcements by the Critical Role social media outlets, where they usually announce restock or new releases of merch.
---
Critical Role Dice Gallery