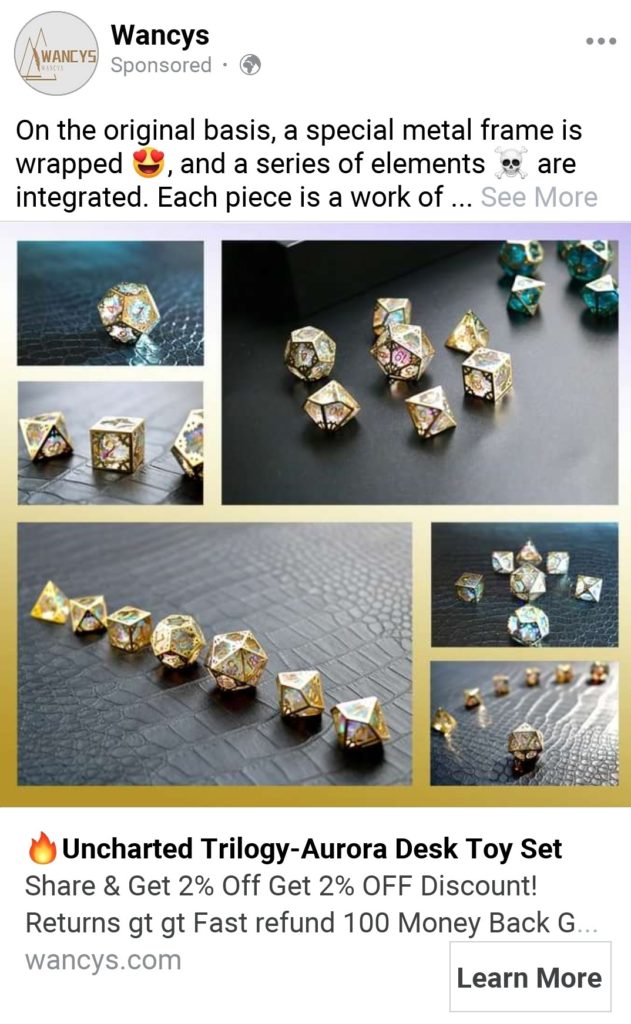 In recent months, we've been seeing a significant amount of scammer Facebook and social media ads and online stores that are trying to advertise dice that aren't theirs, and will not deliver what they promise.
It's not always easy to spot these if you don't have a pretty good idea about all the different handmade and Kickstarter dice out there, because a lot of these scam ads are using photos from popular but unfulfilled Kickstarters (such as the MDG liquid core dice, Dicebound, Uncharted Trilogy-Aurora, Pixels Dice) or unique handmade dice from independent makers (such as dice with objects inside), usually at price points that seem a little too good to be true (e.g. offering $80 Kickstarter dice for $15 or full polysets at special reduced price of $0.01).
These stores advertise under different names, and they're often some kind of strange fantasy name. Store names so far seen include the following:
Ace plum
All made by hand
Alycemall
Anime Dungeon
Appleroo
Athlero or Athlerok
B Fatchrol
Benjamine-shop
Bennidi
Bingoooshop
Charmsection
Chicfoxy
Cominnow
Crystals Collection
D&D Den
D&D is my childhood
D&D With Love
Deeply In Love
Deepseaholder
Easyusee
Elcorel
Epo chepic
Everything For You
Extremetss
Ez Stuff
Fablequality
Gamers Night
Gameworld
Goaheadbuy
Godbuy Store
Gotoronda
Hb-carriecathye shop
Hb-gladyse shop
Hellishop
Heynumok or Heynumokq
House of Dice
Iloveafamily.com
Iphstyle
Jellystores
Just For You
Kelleysha
Kingkas DIY
Levelnice or Levelnice/U.S.A.
Littlest Things
Lospoco shop
Lovepay
Makingdish
Monkeydogs
Mounsiee Sale
Myst desired
Nchdbxc
Orfilaa Store
Outpushops
Perfectfiture
Petcutte
Pg-monsta shop
Rou sep
RuthlessRolling
Shekbuy
Sitecosy
Skull Obsession
Smilelife or Plzsmilelife
Spidebed
Superinstore or Superinstoren
Suproduct
Swisshalo
Tayloke
Toovis
Trnyshop001
Twinkle Town
US – the great dream
Vxristore
Wancys
Weoous
Xindeqqu
Xinestore
Yes I'm A Gamer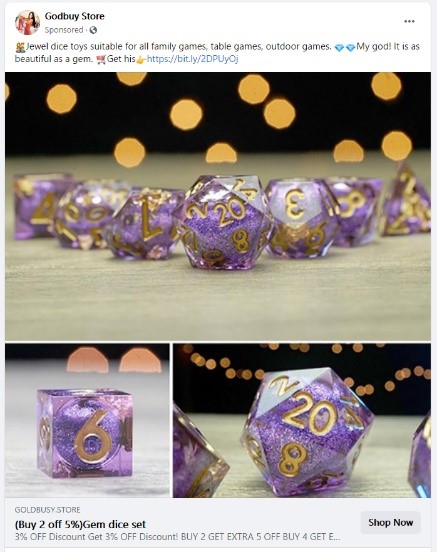 If you see ads like this that use Kickstarter dice or other very unique dice, especially if the prices seem very low, caution is advised. What happens very often is that, if you order there, they do send you dice, but they will be cheap pearl or other mass-produced generic dice that look nothing like what you thought you ordered.
Recently stores and Facebook ads have sprung up that list commercially available product at incredibly low prices, e.g. reducing sets from $19.99 to $0.01. No reputable dice retailer will sell dice for 1 cent. These stores also often inflate the MSRP to make it appear their price reductions are massive. One example was a store listing the Q-Workshop Dice Macabre at $99.99 suggested retail price (reduced to $0.08), when actual retail price is somewhere around $20.
Whenever you see such an ad or post on Facebook, Instagram or other social media, you're encouraged to report it as a scam. There may be other ways to report fake shops as well, for instance if they use URL shorteners like bit.ly that have spam reporting forms.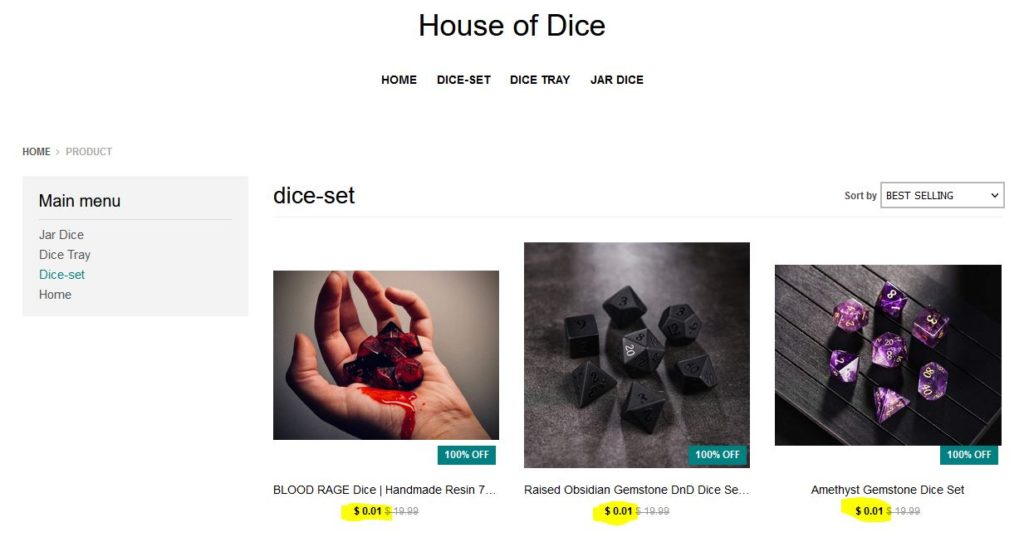 Kickstarter Scam Warning
There have been a number of recent dice Kickstarters that turned out to be scams. In a post in Dice Maniacs' Club, a DMC member kindly shared that these Kickstarters always follow the same pattern:
Creator: Someone working for a company from Hong Kong or Singapore, usually first creator but has backed a few projects, Kickstarter profile is private and you can't see the backed projects, has no Facebook page at all or a very recent one, very little to no information about the company available online
Currency: Always Hong Kong dollars
Reward: Always a 7-die RPG set
Video: Always good quality video with music, no people in the video, usually a spinning camera or light effect and a black background
Pictures: Very similar style, with the company logo watermarked on it (usually in the corner)
Communication style: The texts all have the same style of phrasing and wording, often uses "I" instead of "we", often starting with a story about how the unique idea for the dice was conceived as a collaborative effort
Delivery time: usually 2-3 months after end of the campaign
Timing: Next scam campaign is usually launched roughly 2 weeks after the previous one reached its goal (about the time the creator receives the funds)
Outcome: Roughly 2 weeks after the project gets funded, communication from the creator stops, around the time the funds have been received, with many comments from backers afterwards on Kickstarter who never received their reward