As some of you may know, the deinking method of choice in the US is using the degreasing cleaning agent LA Awesome and just soaking the dice in it undiluted for a few days. However, us folks in other countries don't have easy access to LA Awesome, so some people have tried and tested other locally available products.
As a German, I've struggled with finding something will work as well as LA Awesome, and I have finally made a breakthrough that I would like to share.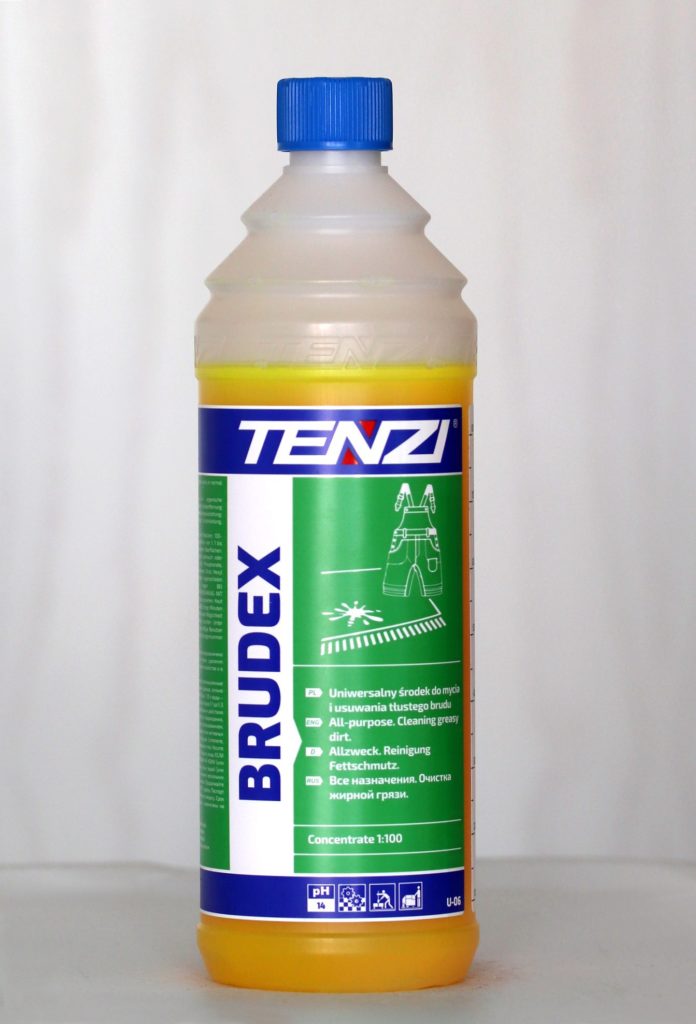 I found a degreaser on eBay by Polish brand Tenzi, which is called Brudex, advertised as "all-purpose cleaner and degreaser". https://www.tenzi.pl/en/product/brudex?tid=8415 It looked and sounded fairly potent, so I took a leap of faith and ordered some. Worst case, I'd spent 13 EUR on enough household cleaner supply for the next five years, right?
It arrived at my house very quickly, and I immediately ran a deinking test series on a bunch of loose dice I wouldn't cry over if they got ruined. Spoiler alert: They didn't.
After two days of my dice in a glass jar with undiluted Brudex, I can happily report that all tested dice survived the process unharmed, and all are uninked at varying degrees with varying effort spent.
Please note that the bottle has a "corrosive" warning label. It has a pH of 14, which is extremely alkaline – it can damage skin and eyes upon direct contact, so caution is definitely advised, and I would urge anyone to wear gloves and safety glasses when handling this stuff!
For anyone more interested in the process, here's my test series and outcomes with undiluted Brudex.
Dice tested: Chessex Vortex Slime, Chessex Speckled Water, Chessex Opaque Red w/black, D&G Translucent Purple, Koplow Pearl Purple, HD Pearl Yellow w/black, HD Blend Blue+White, MDG Flash Blue w/black, Q-Workshop Call of Cthulhu Black and Green.
Uninking process quick 'n easy:
Chessex Vortex Slime, D&G Translucent Purple. Ink came off easily with a bit of toothbrush scrubbing after a few hours in Brudex. (I later put my Bescon Shimmery dice in Brudex and soaked them overnight, and the ink came off all by itself without even any scrubbing or further handling.)
Uninking process for the patient:
Chessex Speckled Water, Chessex Opaque Red, Q-Workshop Call of Cthulhu, Koplow Pearl. Ink came off with the help of toothpick scraping and toothbrush scrubbing after leaving overnight in Brudex at room temp.
Uninking process with increased hands-on effort:
MDG Flash Blue, HD Pearl, HD Blend. Ink didn't come off by itself at all, even after two days overnight soaking in Brudex with occasional warming up in a water bath. Several rounds of toothpick scraping and toothbrush scrubbing managed to get most of the ink out in the end, but traces of the black ink still remain in all dice. (You could probably get the ink out completely with more manual effort or longer soaking time/more frequent warming up.)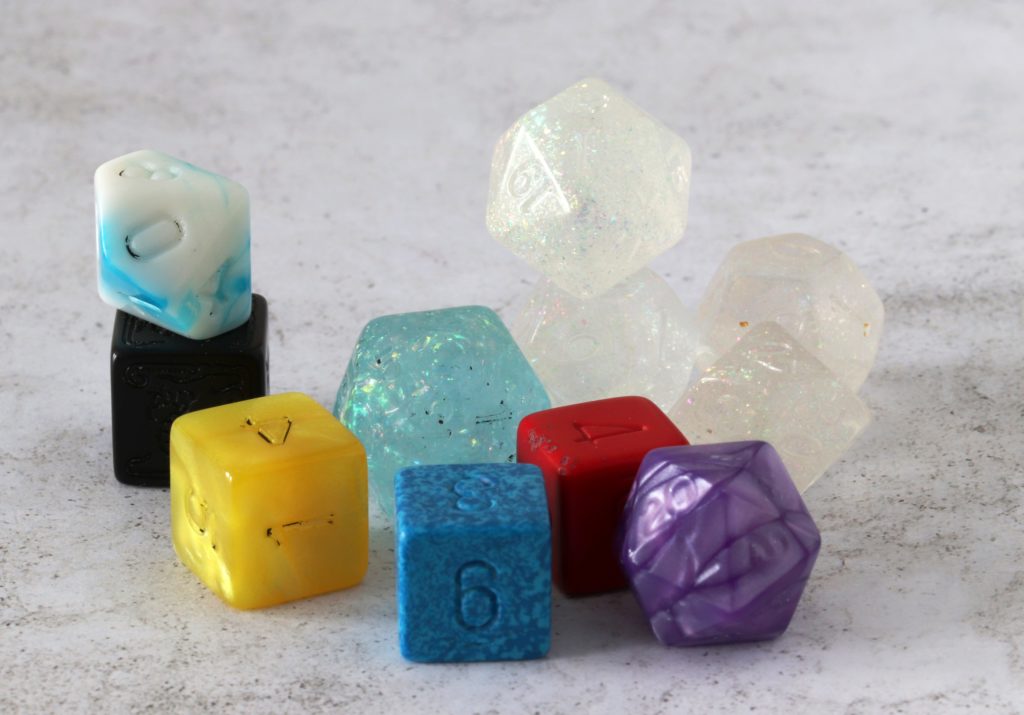 I can't see any surface or other damage to the dice I have tested, which is not to say that it couldn't damage certain dice. Maybe not drop your most favourite set of dice in there all at once without first testing it. And always go into this process with the thought in mind that, worst case, your dice may not survive the process unharmed.
Overall, I'm very happy that I've finally found a cleaning agent that makes the deinking process a lot easier for me, even if some manual effort may be required for the more stubborn ink types. It's a huge improvement to the manual nail polish remover and toothpick scraper process I've used before, which also tended to dull some dice surfaces which required subsequent polishing.
Brudex is available from sellers on eBay.de, I bought this particular offer: https://www.ebay.de/itm/2x-Tenzi-Brudex-Fettloser-Konzentrat-1000-ml-Universalreiniger/392920580597 (2 litres for 13 EUR, incl. free tracked shipping to Germany).
For completeness, I would like to add that people from the Netherlands have reported that St. Marc Express works for deinking (though I vaguely recall a post where it destroyed a particular set of acrylic dice), and in the UK people have said they use Simple Green. Caution is always advised when soaking dice in anything more aggressive than dishwashing soap, as some dice may not take kindly to certain liquid agents.