Here's all the dice releated news from October that have caught my eye.
Disclaimer:
This newsletter is impartial, editorial content and is not aimed at commercially advertising products. I don't receive any payment or free products for any content in this newsletter. Products mentioned here are things I personally find interesting and would like to keep the dice community informed about.
---
Dice of the Month
I haven't done much dice purchasing this month, and apparently the store I ordered the Lab Dice wave 5 with will only get them in December (wtf?), so you'll get to see the one set that arrived in my mailbox most recently. This is the "Virus" set from 3Dice's most recently fulfilled Kickstarter.
Gotta be honest, I'm a little torn about them. I love the idea, and the execution of the inclusions is really good. There are no bubbles, and the inclusions are all well centered. What's also pretty cool is that the numbers are not printed on, they're kind of inside the dice.
What I don't like about them is that a) the viruses for the d12 and d20 are a bit too large, which just makes the dice dark and the black numbers hard to read, and b) there are some sides to some dice that are cloudy on the inside so that the inclusions look very blurry from some faces.
Considering that I paid more than 70 EUR for this one set after shipping, import tax and DHL fee, I know that I'm not going to back another 3Dice Kickstarter unless they offer shipping from EU and the inclusion options look super stunning.
---
New Releases
New from Chessex
Lab Dice wave 5 has now been released, street date was October 29. I don't have my sets yet (and looks like I won't for at least another month), so sadly I cannot offer newly shot photos just yet. (sad trombone)

There is, however, news about the release of the new mini polysets. In their latest Scoop newsletter, they announced that they will come out in December, with an exact date to be announced later.
As for the six new Gemini colours, so far they've only been sold at conventions and fairs. Chessex has not announced any estimated date for these, the word is still "end of the year", but I wouldn't be surprised if they actually end up moving the Geminis out to early 2022.
---
New from Die Hard Dice
Brand new dice from Die Hard Dice! They've facelifted their Avalore line somewhat, now also offering new designs in the same font but with more rounded edges and in pearly designs. These are called Elessia, and I've put a few sample images in the gallery below (not exhaustive, more are in their online store).

Now also released is their new After Dark Avalore line. These are polymer dice in their Avalore mould that are all bright or neon coloured in normal light and they really light up under UV light.

Also new is their Drakona Embers metal line — a series of metal sets in the Drakona mould, but with two-colour faces.

Check DHD's social media, they are currently running a holiday sale where you can get extra goodies and save on shipping costs.
---
New from HD
HD is now also jumping on the luminary train, there are now three lines with glow-in-the-dark particles inside, called Stellar Explosion, Rebirth and Neverland.
---
New from CozyGamer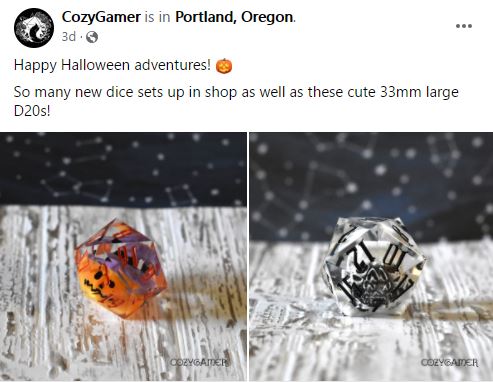 A bunch of new releases from CozyGamer this month. Two Halloween themed d20s, as well as the Copper & Rose set with a new font, and two cat fur colour themed sets, Calico Hazy IPA and Calico Cat.
---
New from Critit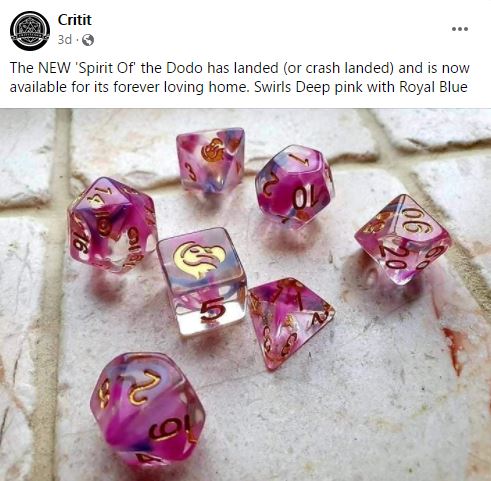 Critit has recently added a new set to their "Spirit of" series — Spirit of Dodo. They're clear dice with pink and blue swirls and a Dodo logo with gold ink.
---
New from Dice Envy
Not sure this set is new, but it sounds like it is. They also currently have a Kickstarter going on for druid wild shape themed dice. You'll find the link in the Kickstarter section further down below.
---
New from Yusun
Yusun is offering more round- and sharp-edged inclusion dice, this time with turtles, fish and mushrooms. They're also advertising more sharp-edged handcrafted dice with mylar flakes in several different colours.
---
New from Sirius Dice
Two new sets from Sirius Dice this month, both are multicoloured polymer sets with glitter. These are called Persimmon Punch and Summer Berries.
---
New from URWizards
Always a little hard to tell what is really new from URWizards that they haven't done before, but I think this particular resin design is new to their lineup — pink-purple resin dice with subtle glitter and gold flakes, available in their Yeet/Fuck font.

I believe the Christmas themed engravings are also new, though I'm not a 100% sure. These are available as different gemstone options.
---
New from Udixi
A bunch of new designs have cropped up on the Udixi website, though I haven't seen them announced anywhere. There are several polymer sets, as well as metal skull dice:
Macaron colour dice (mixed set with unicoloured opaque dice in pastel colours)
Beholder d20s (clear resin dice with beholders inside)
Real Daisy dice (clear resin with dried flowers inside)
Blue Sky and White Clouds sharp-edged handcrafted dice
Bloodshot Silver Foil sharp-edged handcrafted dice
Desert Bull Head dice (translucent brown with bull skull inclusion)
Imitated Colored Glaze resin dice (clear resin dice with multi-coloured ink swirls inside)
Swirl Shimmer dice (not sure what exactly makes these different from other ink swirl sets, I don't see any shimmer in the photos)
Swan Golden Lake (layer dice with swan inclusions)
Glitter Layer (layered dice with glitter in the layers)
Homage dice (not sure what these are paying homage to, they look pretty basic with a variant font)
Skull Hollow Shield metal dice in different metal colours (I've only put a small selection in the gallery below)
---
Kickstarters
Kickstarters are now split into two sections:
1) Kickstarters from reputable companies or dice community members (I'll call these Kickstarers+, but I can't vouch that all these are legit and will deliver),
2) Kickstarters from unknown brands or creators that I wouldn't necessarily vouch for (I'll call this Other Kickstarters
The fact that I'm listing Kickstarters here doesn't automatically mean I highly recommend them, or that they are trustworthy and legit. I try my best not to list anything that looks dodgy or that I couldn't in good conscience recommend, but it's always possible that a project looks great on paper but ends up not delivering what it promises. I may add my own commentary to the text if I'm not convinced about certain projects, but ultimately it's at everyone's own discretion whether they want to back any of these Kickstarters or not.
---
Kickstarters+
Sea Shanty Dice Collection by Lindorm Dice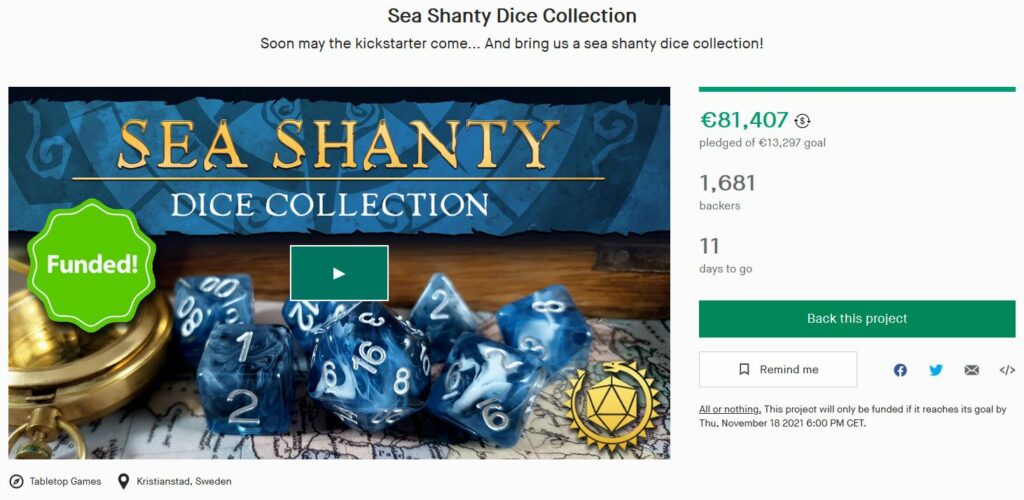 ---
Where The Wild Shapes Are by Dice Envy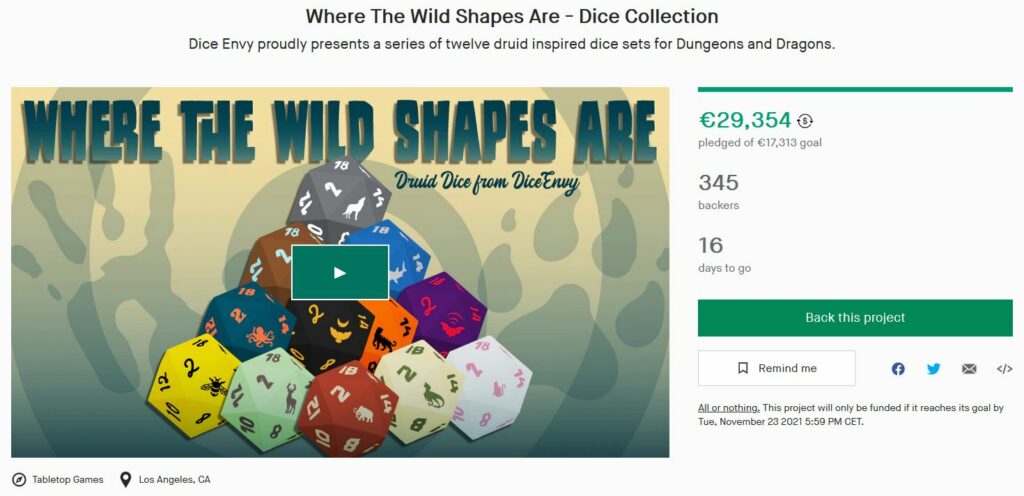 ---
Camo Dice by Random Encounter Dice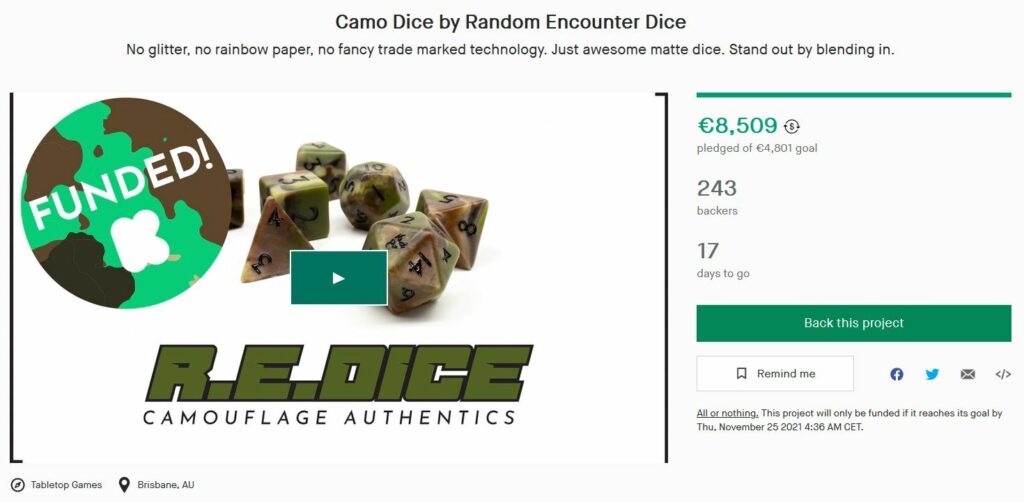 ---
Ice Cream Float: End of the Rainbow by Ice Cream Dice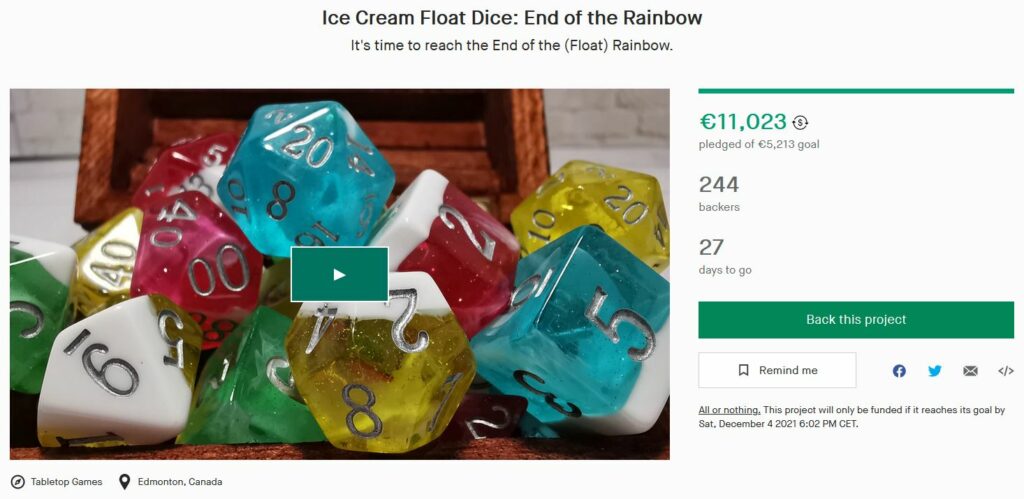 ---
Scented Dice by Baron Smellybones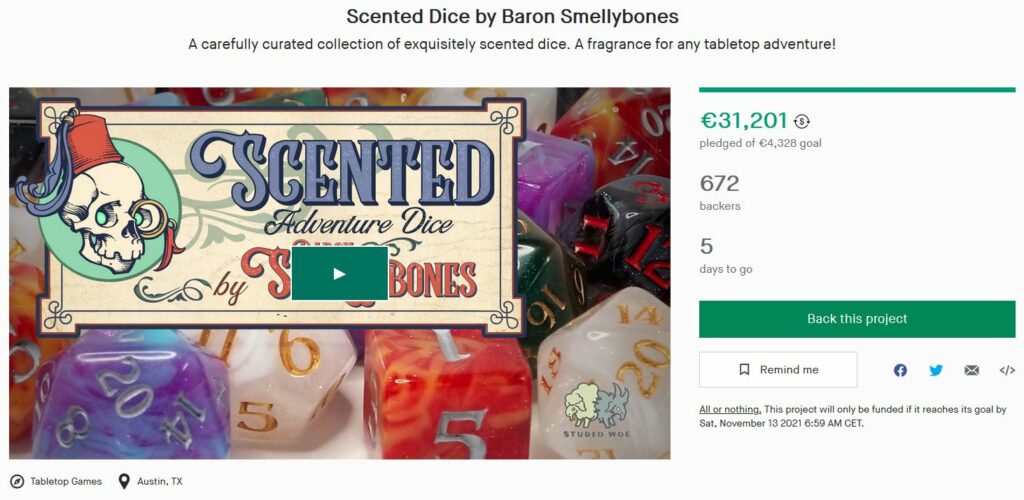 ---
Handcrafted Cat's Eye Dice by Diving Hippo Studio
---
Other Kickstarters
There are 17 active dice Kickstarters this month alone. It's honestly becoming a daunting task to look these all up. For now, I'll just put the links to these Kickstarters here for you to take a look on your own if these might be of interest to you.