Here's all the dice releated news from September that have caught my eye.
Disclaimer:
This newsletter is impartial, editorial content and is not aimed at commercially advertising products. I don't receive any payment or free products for any content in this newsletter. Products mentioned here are things I personally find interesting and would like to keep the dice community informed about.
---
Dice of the Month
Two sets this month, one for the aesthetics and the other for the bounce. The rainbow set is one of Udixi's new sharp edged sets, and I was super excited for these, because finally someone had taken a stab at making something like Kraken's Rock Candy that wasn't Kraken and I could buy with peace of mind. They look awesome, and I love them!
The black set is Metallic Dice Games' new silicone dice. They don't look that spectacular, but they are bouncy and fun, and just really different from anything else I have. They are slightly squishy, and they do hop out of the dice tray if you roll them from high enough. Finally a spiky d4 that doesn't necessarily inquire you if you step on it.
---
New Releases
New from Chessex
After last month's big news drop, there hasn't been anything spectacular to share, other than in-the-wild photos some of the new releases appearing in the dice group from people who had the chance to buy them at recent conventions.
For those of you who are curious, it seems that both the Gemini Translucent Green-Teal and the Gemini Translucent Red-Violet are practically the same as the older releases of them, with the exception of the new Green-Teal having yellow rather than gold ink, and the name change from Red-Purple to Red-Violet.
---
New from Die Hard Dice
Die Hard Dice teased their new metal design called Reticle last month. We now have photos and more details of them. Looks like there are so far six different colourways, photos are below if you're curious what they look like.

We can also expect new Avalore releases on October 1, this time dice that are UV reactive. More details will likely be shared on or after Oct 1, so keep your eyes peeled on the DHD socials.
---
New from HD
Nothing new from HD this month, at least nothing that I'm aware of. Oh well.
---
New from Dice Envy
Just restocks this time around, please check their Facebook page if you want more info on what's back in stock.
---
New from Lindorm Dice
Lindorm Dice is heavily teasing their upcoming Kickstarter now. So far they've posted photos of five of the upcoming sets, and while the names may sound a bit strange, that's because the Kickstarter is going to be sea shanty inspired. Not sure when exactly the launch date is, but can't very far now.
Also new from Lindorm is dice-themed apparel. Photos are below.
---
News from Bescon
New dice from Bescon in their Shimmery line. These look like they could be a great dupe for Chessex Borealis Teal with the old glitter.
---
New from Crystal Caste
Like last year, Crystal Caste is offering their yearly commemorative GenCon dice in their webstore. The photos on their website are kinda terrible, but the dice look very close to their old and now out of print Ancient Purple line.
---
New from Metallic Dice Games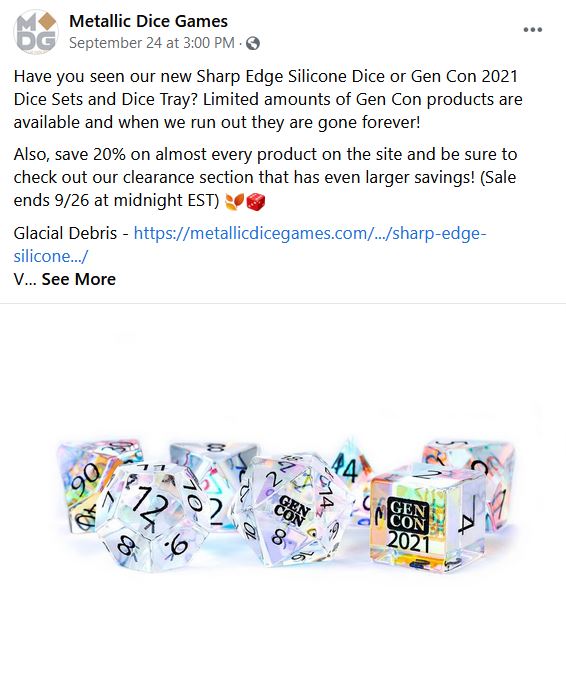 MDG attended GenCon this month, and while their two GenCon sets were supposed to be exclusive to con goers, they are now offering the leftovers on their website.

You can get these (dichroic glass set and resin mylar inclusion set with GenCon logo, as well as GenCon dice tray) in the MDG online store.
---
New from Haxtec
New hollow metal dice release from Haxtec, a line they call The Octopus Series. Available in six different metal colours with an octopus theme.
---
New from Heartstring Dice
Only one new set from Heartstring this month, called Purple and Pink Sakura. Appears these are round-redged pink or purple dice with some kind of flakes inside.
---
New from Dakota Irish
Not entirely sure these are exclusive to Dakota Irish (they might not be), but they are now available for pre-order for anyone who might want them — Hollow Dragon metal dice.
---
New from URWizards
Halloween is fast approaching, and so URWizards is advertising their halloween designs. I'm not sure these are really new, but they're definitetly cute. Available currently in obsidian, amethyst, teal cat's eye and garnet glass.

What I believe is also new is a Cthulhu design. These are available in obsidian and blue sandstone.
---
New from Udixi
More handcrafted sharp-edged dice from Udixi, this time clear resin dice with clovers inside.
---
Kickstarters
Kickstarters are now split into two sections:
1) Kickstarters from reputable companies or dice community members (I'll call these Kickstarers+, but I can't vouch that all these are legit and will deliver),
2) Kickstarters from unknown brands or creators that I wouldn't necessarily vouch for (I'll call this Other Kickstarters
The fact that I'm listing Kickstarters here doesn't automatically mean I highly recommend them, or that they are trustworthy and legit. I try my best not to list anything that looks dodgy or that I couldn't in good conscience recommend, but it's always possible that a project looks great on paper but ends up not delivering what it promises. I may add my own commentary to the text if I'm not convinced about certain projects, but ultimately it's at everyone's own discretion whether they want to back any of these Kickstarters or not.
---
Kickstarters+
Town of Click Clack by Questing Tools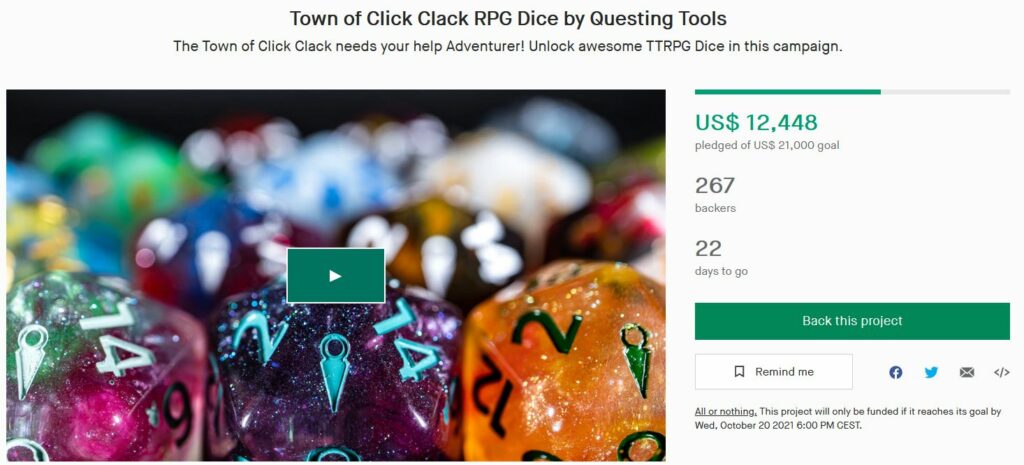 ---
Healer's Dice Rainbow Edition by Arcanist's Armory
---
SkullSplitter Vice Dice by SkullSplitter Dice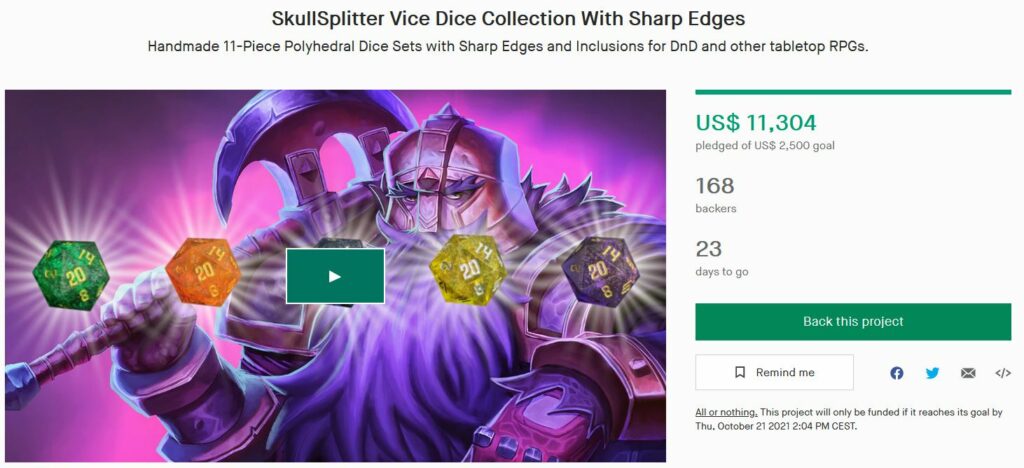 ---
Wild Earth Dice: The Cosmic Collection by Wild Earth Dice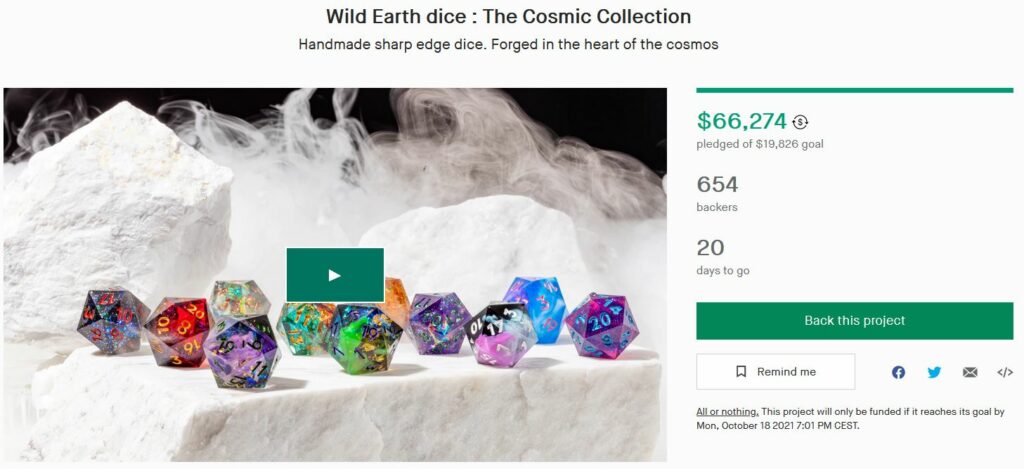 ---
Descent into the Underworld by Little Dragon Corp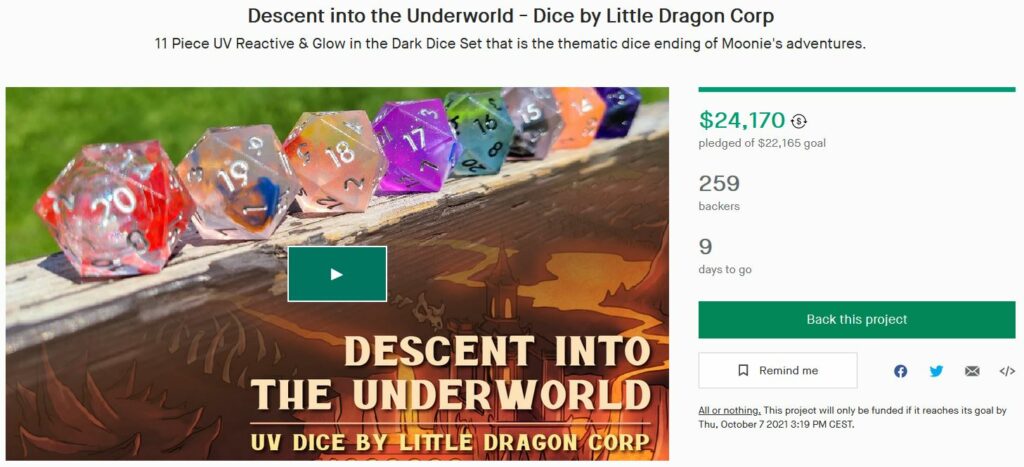 ---
Diffusion Dice: Classes & Creatures by Role 4 Initiative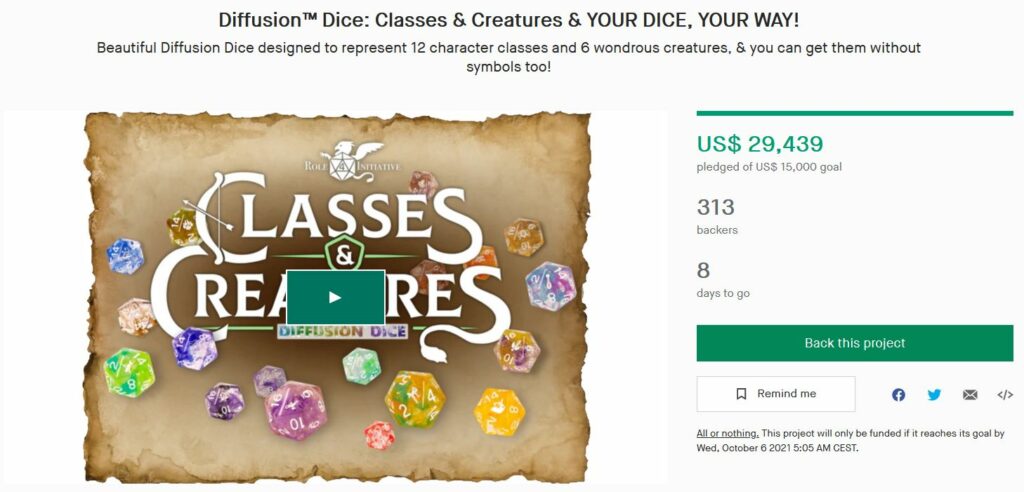 ---
Spectrum Shakers by Moonmares Games
Please note: The photos in the Kickstarter are all renders. There are no photos (yet?) of the actual dice, and the final end product may look different. (Likely less shiny…)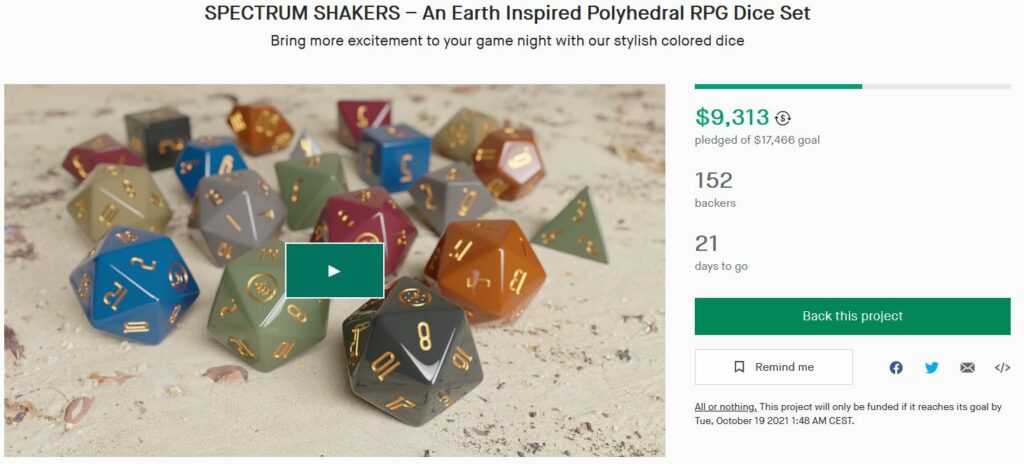 ---
dUltimate by LEN Polygon
---
Other Kickstarters
8-bit Pixel Heart Dice by Luis Lugo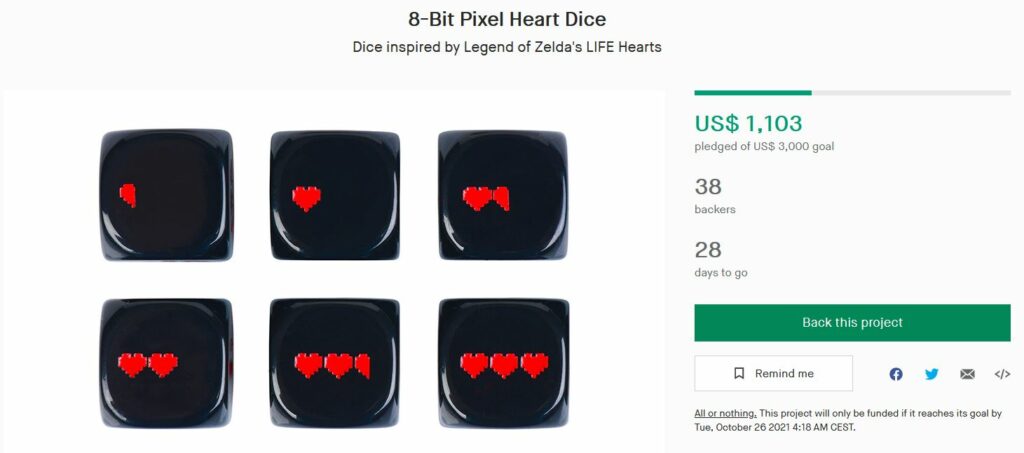 ---
Nexus Dice by ARTHUN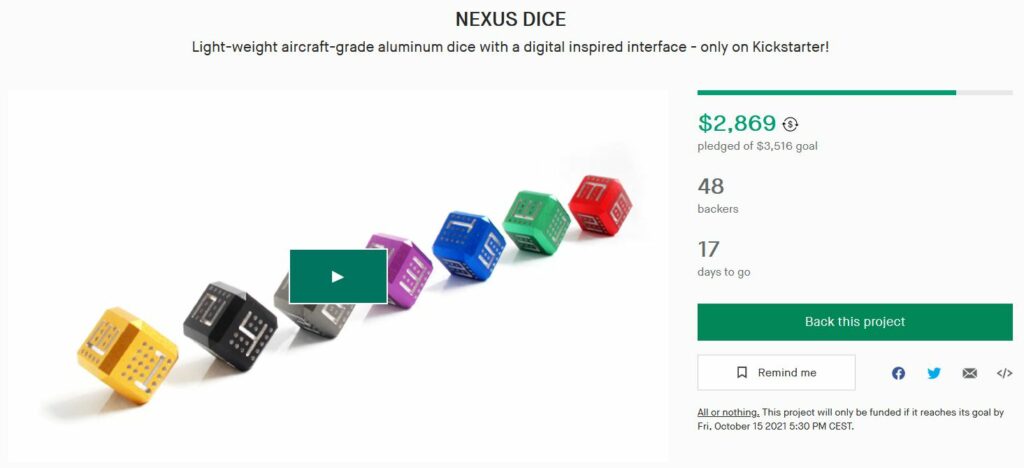 ---
The Dice Frame by Sam Zhao
Not technically a dice Kickstarter, but I thought I'd include this one since I think it's a pretty cool dice display solution for those of us who like to show off their favourite pieces.