Here's all the dice releated news from June that have caught my eye.
Disclaimer:
This newsletter is impartial, editorial content and is not aimed at commercially advertising products. I don't receive any payment or free products for any content in this newsletter. Products mentioned here are things I personally find interesting and would like to keep the dice community informed about.
---
Dice of the Month
New feature, who dis? Like most collectors, I regularly expand my dice collection. There was a great suggestion in the Dice Discord to add a section to the Dice Digest where I showcase favourites each month.
Let's kick it off this month with a set I ordered from T&G via their Aliexpress store. While I love the mylar foil shimmer, I'm not quite sure if black ink was the best choice for these. I may attempt to reink them at some point if I can get the ink off. As compared to other mylar sets, they have the foil all balled up in the center of the die, probably to avoid mylar sticking ouf through the surfaces. I'd love to post a link where to buy them, but looks like T&G currently doesn't stock them anymore. Sorry.
My second featured set is the raw version of Eclipse Dice Starstuck Distant Days. These were part of their first Kickstarter, and while the Kickstarter only had tumbled versions, they later offered untumbled raw sets in their online store. They seem even nicer as raw dice compared to the tumbled versions, and I love how they turned out with dark purple ink after I nail-filed away some minor sprues and inked them.
You can still purchase these from the Eclipse Dice store at 10 EUR per extended polyset (10-die set with 3d6 and 2d20 — one d20 with a logo and the other without).
---
New Releases
New from Chessex
Chessex announced in one of their recent Scoop newsletters that the colours for the next wave of Lab Dice have been chosen. We don't know yet what they will look like and when they will be released, though. Packaging will be in line with wave 4 — they will stick with the plastic tubes and the extra pipped d6 for each set.

---
New from Die Hard Dice
Nothing exactly new from DHD this month, but they have been teasing more Drakona designs.

And good news for those who missed out the first time they were offered: LifeLink MtG counters are back in stock.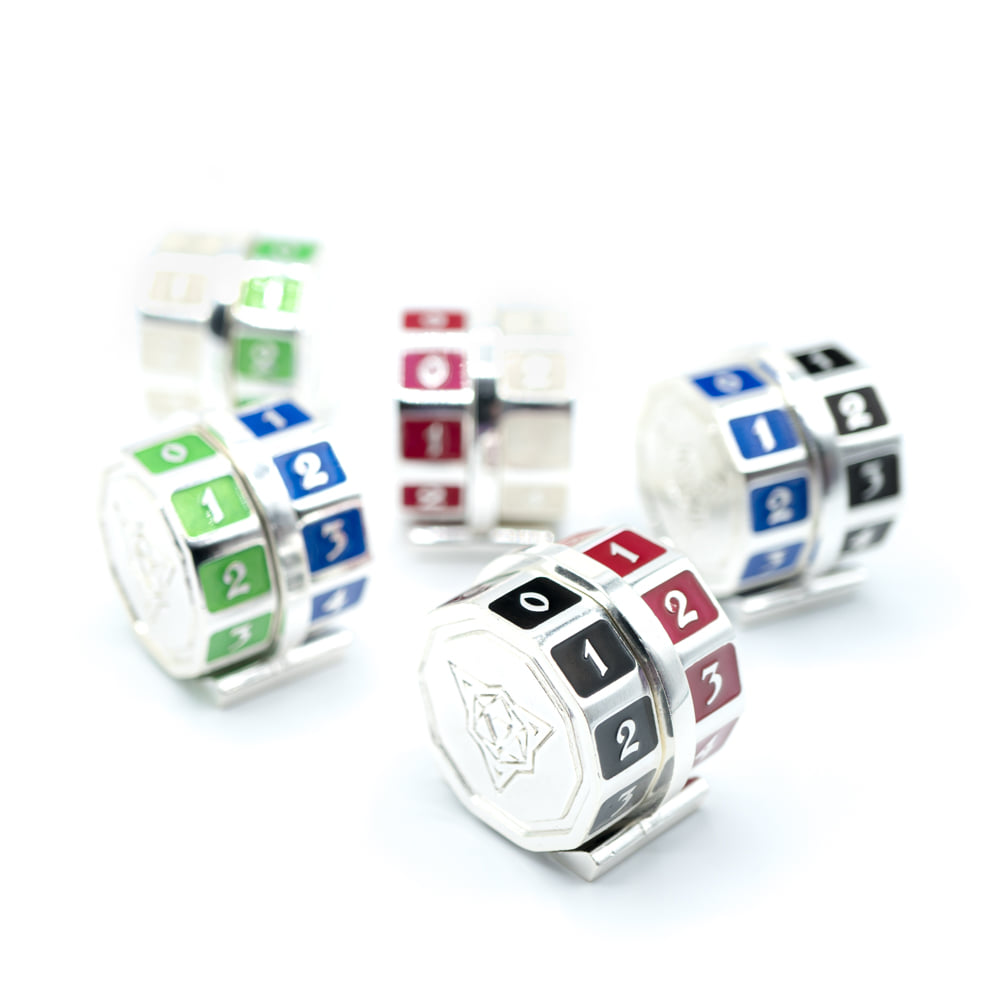 ---
New from HD
HD had a very prolific month this June. Here's all their new products from the past four weeks:
Chonky 40mm d20s in different pearl colours
Polymer dice in a new font that are offered with a white glitter base and six different ink colours, and opaque black with six different inks.
Gemstone sets in several designs that should be hitting retail stores who want to carry gemstone dice soon (these were annnounced to be limited run for now)
Engraved (?) black polysets with different ink options (these were previously only available as d6s)
Sharp-edged dice in white with rainbow ink, in dark grey with ink in several different colour options, and in pastel green or purple with white ink
Three other new sets, two in a swirly blue colour scheme, one clear with fine glitter and pink ink
Positive/negative d6s in different designs
---
New from CozyGamer
CozyGamer has a new exclusive set with tea leaves and petals inside. You can find these listed in their store as Tea, Rose Petals, and Lavender Dice.
---
New from Dice Envy
New translucent rainbow dice from Dice Envy this month, coming as 10-piece set with rounded d4, extra d6 (with logo) and extra chonky d20, aptly named Rainbow.
---
New from Haxtec
All aboard the sharped-edged hype train! Haxtec is throwing out at least eight new sharp-edged resin sets with mylar foil inside, and another two layered sharp-edged design. Photos of all the colours and sets are below.
---
New from Heartstring Dice
I suppose this isn't just "new from Heartstring Dice", this is "new is Heartstring Dice". First time I'm mentioning them in the Dice Digest, though I believe they actually debuted as a new company out of China at the beginning of the year.
You might have seen some of their dice without being aware that they were Heartstring Dice. They've already put out a good amount of designs, including sharp-edged layer dice, sharp-edged mylar dice, translucent dice with penguins, and apparently those new polyhedrals with flashing LED lights inside are from them too.
What I'm showcasing today are acrylic polysets with a cracked look that I think look pretty cool. They are available in different colours: red, blue, green, yellow and grey. With any luck, they'll be available from different retailers soon.
---
New from Würfelzeit
Würfelzeit released new 16mm pips that, to my knowlege, are exlusive to them. These are called Cosmoo Creepy Web Red, and will also be available in blue in the near future.

As mentioned above, these are made by Heartstring Dice, who are also offering them as polysets in several colours. It sounds like the pips are exclusive to Würfelzeit, but I'm not fully sure that this is the case.
---
New from Yusun
Yusun has been prolific of late, they came out with several new designs in resin and metal.
Hollow metal dice in a sea-theme (with starfish and waves) that have use their custom font, available in several colours
Petri-pour technique sharp-edged resin dice (ink drops in clear base material) with little sea shells inside in at least two colourways
Blossoms encased in sharp-edged resin dice in different designs and colours
What looks like curled coloured ribbons encased in sharp-edged resin dice, available in three colour combinations
---
New from Udixi
Udixi's website is not exactly user friendly if you want to browse for new releases, and they didn't make any official announcements on their Facebook page about June releases, so I'm just gonna feature these new gemstone sets here that caught my eye.

These look similar to some of the new HD dice, and also the Groovy Dice from the recent Dice Dungeons Kickstarter. According to the Udixi website, all of these are made out of turquoise, and the Dice Dungeons Kickstarter says that the dice "are made from crushed turquoise, crushed stone, brilliant colored dyes, and stabilized with resin".
---
Kickstarters
Scroll down for this month's compilation of currently active dice Kickstarters.
The fact that I'm listing Kickstarters here doesn't automatically mean I highly recommend them, or that they are trustworthy and legit. I try my best not to list anything that looks dodgy or that I couldn't in good conscience recommend, but it's always possible that a project looks great on paper but ends up not delivering what it promises. I may add my own commentary to the text if I'm not convinced about certain projects, but ultimately it's at everyone's own discretion whether they want to back any of these Kickstarters or not.
---
Kickstarter Scam Warning
There have been a number of recent dice Kickstarters that turned out to be scams. In a post in Dice Maniacs' Club, a DMC member kindly shared that these Kickstarters always follow the same pattern:
Creator: Someone working for a company from Hong Kong or Singapore, usually first creator but has backed a few projects, Kickstarter profile is private and you can't see the backed projects, has no Facebook page at all or a very recent one, very little to no information about the company available online
Currency: Always Hong Kong dollars
Reward: Always a 7-die RPG set
Video: Always good quality video with music, no people in the video, usually a spinning camera or light effect and a black background
Pictures: Very similar style, with the company logo watermarked on it (usually in the corner)
Communication style: The texts all have the same style of phrasing and wording, often uses "I" instead of "we", often starting with a story about how the unique idea for the dice was conceived as a collaborative effort
Delivery time: usually 2-3 months after end of the campaign
Timing: Next scam campaign is usually launched roughly 2 weeks after the previous one reached its goal (about the time the creator receives the funds)
Outcome: Roughly 2 weeks after the project gets funded, communication from the creator stops, around the time the funds have been received, with many comments from backers afterwards on Kickstarter who never received their reward
One of them is currently still running, called Gemstone Dice Featuring Mysterious Runes. I would very much recommend that you don't back this one, or cancel your pledge if you already did. There are indications that the Goblin's Chips Hollowed-Out Metal Dice is also one of them, which is why I'm not featuring these two in my below list of active dice Kickstarters.
---
Critit Divine Sharp Edge Dice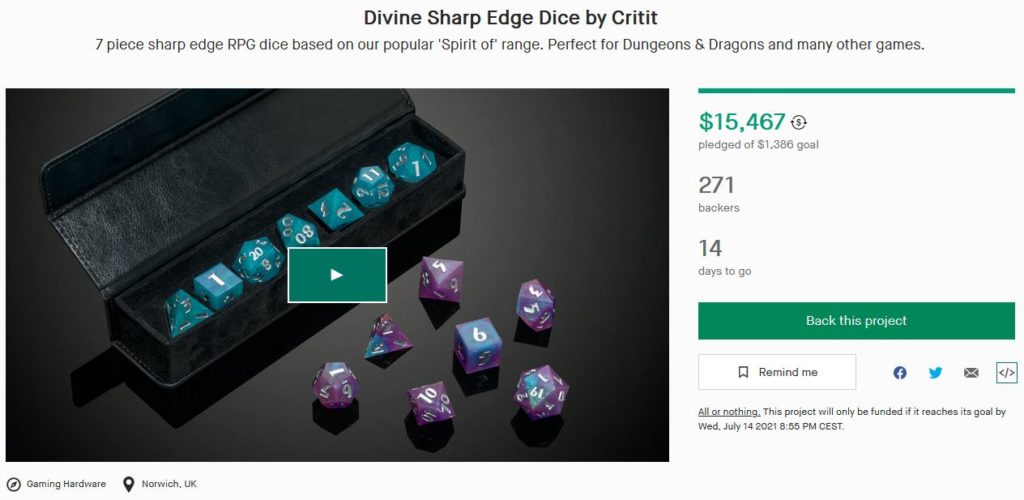 Well-known UK based company Critit is creating a new line called Divine, which are sharp-edged dice in different designs and colours. The Kickstarter offers eight different designs and colourways. Each set comes in a faux leather presentation box.
With no stretch goals or add-ons and only two backer tiers, this one is pretty no-frills and focuses on the product, which I find is a positive rather than negative aspect, compared to way more complex Kickstarters we've seen in the past.
Price Point
Kickstarter Specs
Funding Status: Fully funded
Stretch goals or add-ons: None
End Date: 14 July 2021
---
Deadly Skull Dice & Sunken Skull Resin Dice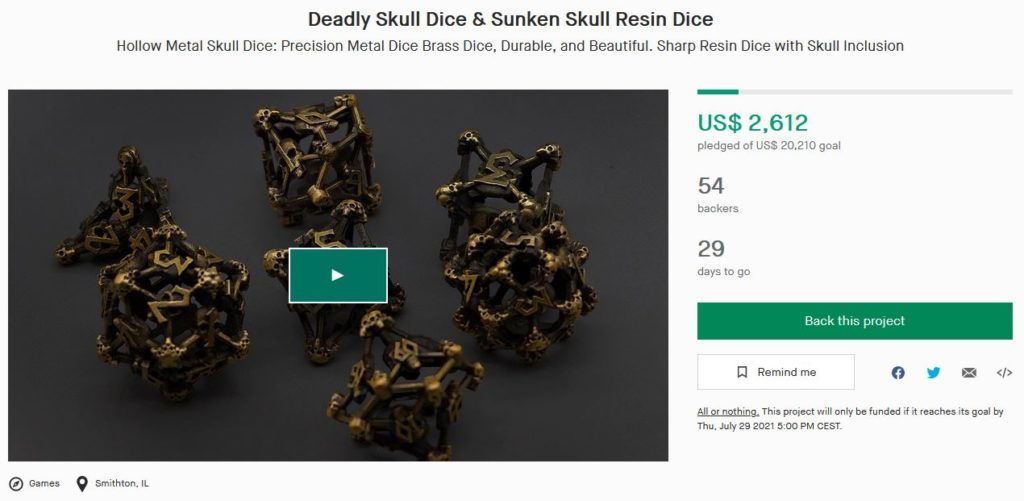 Bryce's Dice is back with another Kickstarter, this time hollow brass dice with a skull design. The edges are connected via metal bars, which makes these look really interesting and minimalistic. Added bonus is that they make a metal chime sound when they are rolled together, which you can hear in the Kickstarter video if you're curious.
Base goal is three different colourways (gold, copper, white w/gold), with two more hollow metal colours as stretch goals. Also available are Sunken Skull dice — sharp-edged dice with a resin skull inclusion. There are four base colours for these, with one more as a stretch goal.
Price Point
Single dice: $4-8 (depending on material and die shape)
Sunken Skull resin set: $25
Deadly Skull brass set: $45
Different combo tiers available
Kickstarter Specs
Funding Status: 21% funded

(3h after launch)

Add-ons: Dice bag, commemorative metal coin (both are stretch goal add-ons)
Stretch Goals: Additional colourways for both the brass and the resin dice
End Date: 29 July 2021
---
Retro Dice – Gen. 2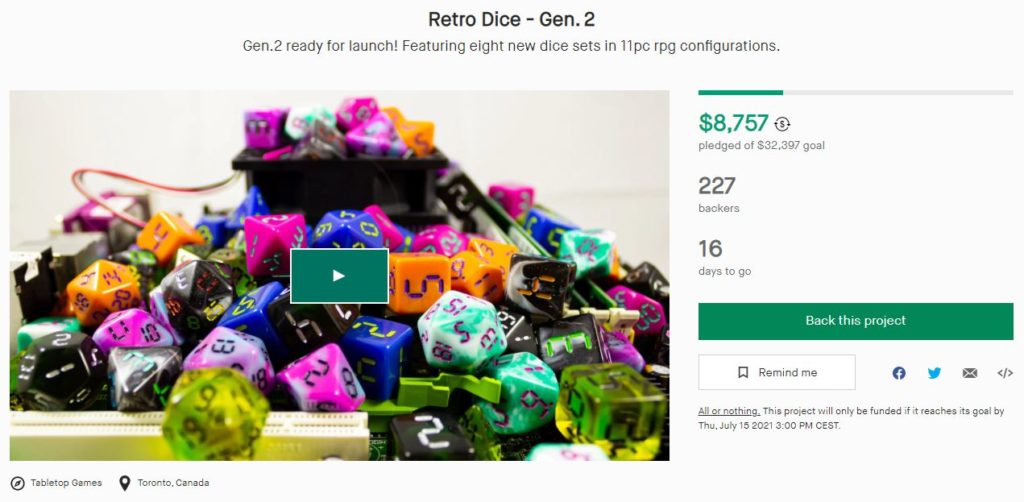 Orcansee Gameworks is bringing back their Retro Dice from their first successful Kickstarter. They call these second generation, and offered here are new colours and designs with the same retro numbers inspired by digital displays.
The available options are three opaque colours, two UV reactive glow-in-the-dark ones (called Reactive), two 2-tone swirly designs (called Fusion), and one with glitter and differently coloured numbers on every face (called Glitter).
All dice come as 11-piece polysets with 2d20s, 1d12, 1d%, 1d10, 1d8, 4d6s, 1d4.
Price Point
Kickstarter Specs
Funding Status: 27% funded

(15 days to go)

Add-ons: Stickers, enamel pins
Stretch Goals: Kickstarter exclusive sticker, complimentary12pc d6 dice set, Kickstarter exclusive pin, 11pc Retro Dice set in as new design option, 12pc d6 set of one design (chosen via backer poll) as regular backer option, 11pc mystery set
Additional perks: All all-in backers receive an exclusive holographic RGB d20 sticker, an exclusive glitter 1.5inch RGB d20 enamel pin, an 8pc d20 sticker pack and a 1 inch hard enamel d20 pin
End Date: 15 July 2021
---
Fully Customizable Wooden Roleplay Dice
Pretty cool concept, but also fairly high funding goal and price point, which would explain why this Kickstarter isn't doing that well. What you can get in this Kickstarter are wooden dice from different wood species with fully customisable faces that the backers can choose themselves. It's not fully clear how the faces are done, they only mentioned "burnt wood" once, so I can only guess it's either branding or laser engraving.
The dice will be made locally in France from sustainable wood. It's not clear what wood options exactly they will offer, they say backers can choose from different colored wood species. Some of the money from the Kickstarter will go towards acquiring new machinery that they will need to scale up production.
Price Point
Backer name engraved on a board to be hung in their workshop (not sure what's in it for the backer for this one…): 5€
d6 in a predetermined design with your backer number on it: 10€
Customisable small single die (3 cm): 29€ (19€ Early Bird)
Customisable large single die (7.5 cm): 49€ (39€ Early Bird)
Customisable small 7-die polyset (3 cm): 89€ (69€ early bird)
Customisable large 7-die polyset (7.5 cm): 249€ (199€ early bird)
50 cm (!) d20: 599€
10-piece customisable extended small polyset (extra d10, 3 extra d6): 199€ (149€ early bird)
10 customisable small dice: 119€ (99€ early bird)
30-100 dice of the backer's choice at 6.50€ per die: 195€
100-500 dice of the backer's choice at 5.00-6.25€ per die, depending on amount: 625€
Kickstarter Specs
Funding Status: 16% funded

(29 days to go)

Stretch Goals: none
End Date: 29 July 2021
---
Tinhedrals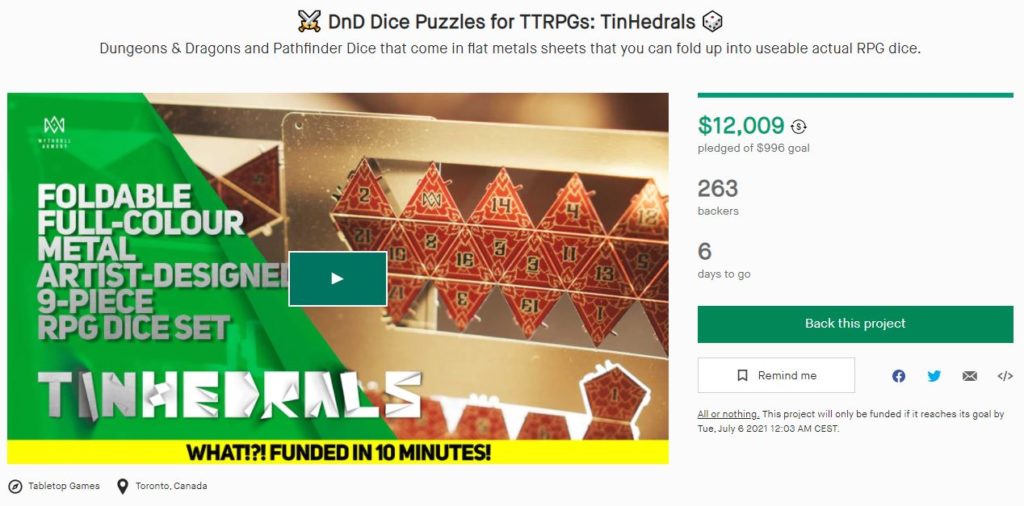 This is a bit more unusual dice Kickstarter, because technically it's not actually dice, but it also kinda is. These are the same creators who brought us the Tin20™ foldable d20, and they're now back with foldable full polyhedral sets. As per the Kickstarter, what you get here are dice that start out as a flat sheet of metal, which you can then fold into actual RPG dice you can use.
They listened to feedback from the first d20 Kickstarter and made further improvements, so now you can get a full set of dice from two sheets of metal that you can bend into polyhedral dice you can actually roll. The polys are colour laser-printed faces designed by different artists. A full set of dice is a 9-piece set with 2 extra d6s.
Price Point
PDF of Tinhedral folds: CA$6
1 set of Tinhedrals with polished finish: CA$26
1 set of Tinhedrals at 15% discount to MSRP: CA$35
Kickstarter Specs
Funding Status: Fully funded
Stretch Goals: A new design gets unlocked every CA$10,000 above the funding goal
End Date: 6 July 2021
---
PRIMUS Sharp Edge Dice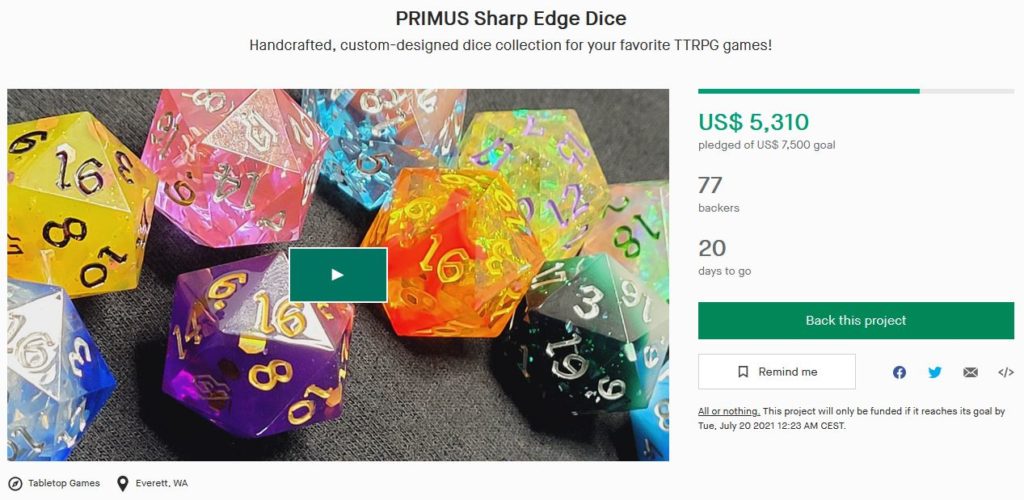 I already covered these sharp-edged resin dice with logo in my last Dice Digest, but I will reprise them because the owner cancelled the initial project after asking for feedback on Facebook as to why her first version of the Kickstarter wasn't doing well and how she could improve it.
They made some changes to the campaign for the relaunch, namely lowering the funding goal and the initial offering to six options, with the remaining eight designs being stretch goals instead. They also changed their tiers a bit, and the Kickstarter overall seem a little less cluttered and more organized.
Unfortunately, they removed all information about how the dice are made. In their original Kickstarter, they had stated that they were working with a manufacturer, so these are likely not handmade by the creators themselves.
Price Point
Full polyset: $35
Included in some of the higher tiers: healing potion dice kit, extra d20, Elderwood Academy hex dice vault
Kickstarter Specs
Funding Status: 71%

(19 days to go)

Stretch Goals: Eight additional design options
End Date: 20 July 2021
---
Rolling Viruses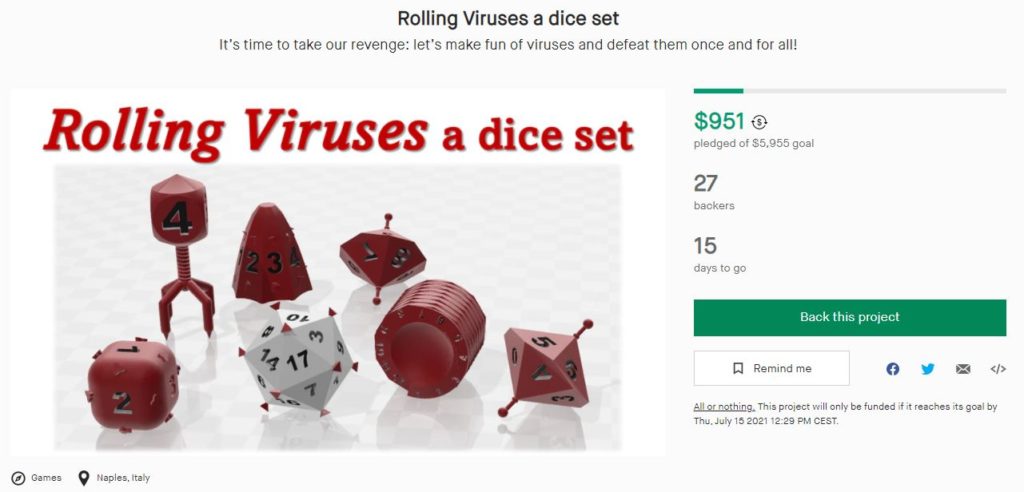 This is kind of a fun project — unusually shaped polyhedral dice inspired by actual viruses. Each die resembles the look of a certain type of virus, featuring bacteriophage, rotavirus, rabies, adenovirus, tobacco virus and corona virus.
Most images in the Kickstarter are renders, but they show one sample set and state that the final dice will be 3 to 5 cm zinc alloy dice in red. Additional colours could get unlocked as stretch goals.
Price Point
Single die: 10€
7-die polyset: 33€
Kickstarter Specs
Funding Status: 17% funded

(15 days to go)

Add-ons: Foldable dice trays with logo, dice bag with logo
Stretch Goals: A new colour gets unlocked every 10,000€ above the funding goal
End Date: 15 July 2021
---
dLUX FIN Dice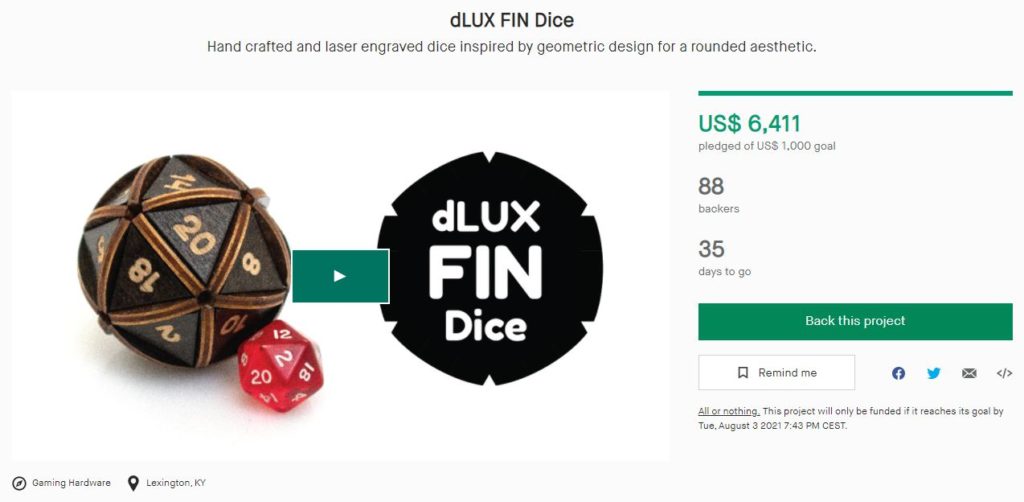 These are pretty unusual, as dice go, and I'll just quote the Kickstarter text to explain what they are: dLUX FIN Dice are large scaled dice [for] role playing games. They're inspired by geometric design that form fins along the edges allowing increased rollability. They are made from birch ply with 4 potential stains: Walnut, Cherry, Brown, and Clear.
Please check the Kickstarter page for more info on how these are made and assembled, which I think is pretty interesting.
Price Point
Single d4: $5
Single d6: $8
Single d8: $11
Single d10 or percentile: $14
Single d12: $17
Single d20: $20
7-die polyset: $70
7-die polyset with hex box: $80
7-die polyset with hex box and your own art on the lid: $90
Kickstarter Specs
Funding Status: Fully funded
Stretch Goals: Dragon themed engraving (unlocked), Cthulhu themed engraving (locked), sci-fi themed engraving (locked)
End Date: 3 Aug 2021
---
On a personal note…
A Word About Q-Workshop

I wanted to mention something that I recently noticed when I purchased from the Q-Workshop online store. They offer their new Witcher dice sets at 23.37 EUR per set in their online store, while the suggested retail price (SRP) is 19.00 EUR (European retail stores sell them between 15 and 20 EUR). Q-Workshop also offered these Witcher sets as an add-on in their latest Hybrid Dice Kickstarter at 19.00 EUR per set.
When I inquired with Q-Workshop, they explained that the SRP of 19 EUR is the price without tax. Poland has a VAT rate of 23%, so their online store price of 23.37 EUR is the 19.00 EUR plus 4.37 EUR Polish VAT. Here's a quote from their e-mail:
We are always trying to keep SRP + tax on our shop. If one of our partners has decided to sell it cheaper, we just have to accept this knowing that the marketplace is very demanding and very offten making the price the most important factor. We do not want to compete with retailers, it just would not be fair for FLGS's or any other shops we are cooperating with, because we, as a producer are on way more privileged position. It does not make us the cheapest shop on the internet, but let us be more transparent for our retail partners.

[…] you are right – our team responsible for KS has decided to offer Witcher Dice Sets a little bit cheaper than in our shop. (without tax in fact) It is a kind of promotion just for our backers. It was not something that we have planned – sorry about that.
What this has taught me is that, if you're conscious of buying Q-Workshop dice at a good price, don't buy from Q-Workshop directly. There is no advantage of buying from their online store that I can see, unless you care about their reward coins or getting pre-order products quickly.
Q-Workshop's pricing policy has irked me for a while, and there was no indication in their response to me that they were invested in keeping me a happy or returning a customer, so I will stop covering Q-Workshop news in upcoming Dice Digests for the time being. I know a lot of you love Q-Workshop, and you might feel like I'm overreacting, which is your prerogative. If you want to keep up to date on new releases from Q-Workshop, you can follow their Facebook page and other social media outlets.